Supporting the Community

As a leader in the gaming and entertainment industry, Galaxy Entertainment Group ("GEG", or the "Group") operates as a fully sustainable business by supporting the communities in which it operates and fostering social goodwill. Fully committed to sharing its success with Macau's residents and visitors, GEG invests in the future development of Macau and supports the government's social programs.
Driven by its "World Class, Asian Heart" service philosophy, each year GEG devotes significant resources to supporting social cooperation, talent development, environmental protection, and resource and supply chain management.
COMPLIANCE WITH LAWS AND REGULATIONS
GEG fully complies with the rules and regulations set out by the Macau Special Administrative Region ("SAR") Government as well as the Hong Kong SAR Government. Specifically, GEG maintains its corporate values, philosophy, responsibilities and procedures by implementing its own Code of Business Conduct and other internal documents in order to ensure the conduct of an ethical, honest and fully compliant business.
As part of its commitment to fighting corruption and maintaining high ethical standards, GEG obliges its employees and independent third parties who work on GEG's behalf to undertake due diligence on business partners working with GEG, to ensure compliance with its Anti-Money Laundering and Combating Finance of Terrorism Policy which was approved by the Macau Gaming Inspection and Coordination Bureau.
All the relevant internal rules, regulations, policies and procedures are effectively disseminated to all GEG team members through internal channels, interfaces and employee agreements.
GEG makes every effort to educate and keep its team members aware of the applicable rules, regulations and procedures by regularly conducting compulsory training and workshops. In addition, all team members are encouraged to report any noncompliance with anti-corruption and anti-money laundering policies, including suspicious financial activities and transactions, to the Human Resources and Administration Department or other relevant departments according to standard operating procedures.
GEG also upholds intellectual property rights and protects personal data. GEG uses different contractual vehicles such as confidentiality agreements and non-disclosure agreements to protect intellectual property rights, personal data, and/or other confidential information.
TEAM MEMBERS ENGAGEMENT
1. Diversity
In the recruitment process, GEG takes great care in ensuring our team is diverse in gender, age, qualifications and experience. GEG has almost equal numbers of female and male workers. The majority of the team members are aged 30 years or above and are skilled and experienced.
2. Working environment
GEG is strongly committed in promoting a healthy work-life balance and providing a comfortable environment for its team members. Initiatives in 2016 included:
Working with local associations to provide services to promote healthier work practices;
Organizing a Family Hiking Day; and
Organizing the third GEG Staff Social Club "Annual GEG Soccer Fun Day" to foster camaraderie between teams whilst bringing families and friends together.
3. Labor Standards
GEG regards its workforce as one of its most important assets. In addition to its internal policies, GEG has robust policies and processes in place to ensure compliance with the rules and regulations in employment and labor standards that are laid out in both the "Labor Relations Law" and "Labor Legislation" of the Labor Affairs Bureau of the Macau SAR Government and Labor Department of the Hong Kong SAR Government, respectively.
4. Health and Safety
The health and safety of GEG's team members is of paramount importance. Using an operational risk-based approach, GEG continues to develop its safety procedures and control measures in alignment accordingly. This approach includes: Galaxy Macau's safety management system, established in 2011, which complies with the Factories and Industrial Undertakings (Safety Management) Regulation and was awarded the British Standards Institution (BSI) OHSAS 18001 Certification in 2015.
GEG's dedicated Health and Safety Team monitors and investigates work-related injuries and accidents.
5. Talent Management
GEG provides training and development opportunities to support team members in achieving both vertical and lateral career path advancement. Our talent development focuses on diversifying local team members' skills and knowledge to support a diversified business, local economy and community.
Organization Development and Training initiatives support GEG's Mission, Vision and Values. Our team members' success in delivering service that stands out from the rest provides the very foundation of all our business.
Stakeholder Engagement – continuous partnering with customers, leaders, employees and the community to achieve mutually beneficial outcomes for all;
Capability Development – building the capabilities of our employees in a structured, pragmatic and timely manner through world-class, on and off-the-job learning activities;
Training & Learning Innovation – investing in the right technologies and choosing the appropriate delivery channels, including blended and e‑learning, to ensure broadened access and maximum impact on employee development and business outcomes; and
Workforce Agility – preparing our workforce to support existing and future business needs and growth by development programs that respond to employee and business needs and promoting progressive career development and growth opportunities for local team members.
GEG's Organization Development and Training strategy has delivered the following key learning and development initiatives including:
Core Foundation Programs that are anchored in GEG's Mission, Vision and Values to ensure complete alignment of knowledge and skills throughout GEG;
Supervisory, Manager & Leadership Programs that assist team members in advancing their careers as future Supervisors, Managers and Leaders and develop GEG core leadership competencies. This program was recognized as a finalist and award winner for Leadership Development at the Human Resource and Innovation awards covering the Asian region;
Governance Programs such as Compliance Programs, compulsory for all targeted team members on the Responsible Gaming Program, Anti-Money Laundering, Combating the Finance of Terrorism, Information Management Awareness Program, Payment Card Data Security & Health & Safety;
Gaming and Hospitality Operations and Job Skills Programs conducted through internal and external training events to enable team members to obtain the knowledge, skills and competencies required for their roles; and
Talent Management programs focused on the vertical and horizontal progression of local team members, supporting the upward movement and skills diversification of the local population and facilitating the advance of local team members into management and leadership positions.
In 2016, GEG and our team members set a new Guinness World Record for the largest human clover, symbolizing and energizing our "World Class, Asian Heart" service philosophy.
GUEST ENGAGEMENT
To ensure that the best possible service is delivered to its guests, GEG not only complies with the internal policies and all consumer rules and regulations, it also provides a wide variety of channels for client feedback. These are supported by:
Implementing mystery shopping as a tool to investigate and evaluate the quality of services, compliance with laws and procedures, and the overall consumer experience at all GEG properties;
Encouraging customer feedback and rating through comment cards, e‑mail and social media platforms; and
Maintaining hotlines and appointing quality assurance managers to monitor and resolve guest complaints in a timely manner.
GEG implements strict policies and standards for protecting the health and safety of its customers and upholding the quality of its products and services. These standards are adhered to by GEG's team members and all independent third parties who work on its behalf.
SUPPLIER MANAGEMENT
GEG ensures that it conducts its business ethically and honestly by strictly complying with all laws and regulations associated with executing orders for the supply of goods and services. GEG strictly adheres to all laws on bribery prevention and encourages team members to report any possible corruption offences to Macau's Commission Against Corruption (CCAC) whilst also requiring suppliers to declare any conflicts of interest. GEG continues to work with selected suppliers who offer products and services which:
Control and mitigate adverse environmental impact;
Prevent pollution, reduce waste production and improve efficiency in resource utilization; and
Meet or exceed all relevant legal obligations and codes of practice.
GEG conducts periodic reviews and performance evaluation of its suppliers and requires all suppliers, vendors and contractors to comply with Macau's industrial safety laws and observe GEG's health and safety guidelines prior to entering its properties. GEG considers the following when selecting suppliers:
The vendor's environmental values and commitments to stewardship such as is evidenced by certifications and memberships;
The vendor's compliance with international labor standards as well as environmental laws and regulations;
The vendor's commitment to adopting the environmental purchase specifications as recommended by the Environmental Protection Bureau of the Macau SAR Government; and
The vendor's commitment to meeting GEG's environmental specifications.
Aligned with the Macau SAR Government's policy on supporting the development of local SMEs, GEG prioritizes local SMEs in all sourcing areas. Adopting the "large businesses leading small businesses for sharing of economic success" approach, GEG launched a Local SME Partnership Program in 2016 to provide extensive opportunities for local SMEs to further develop and grow their business with GEG.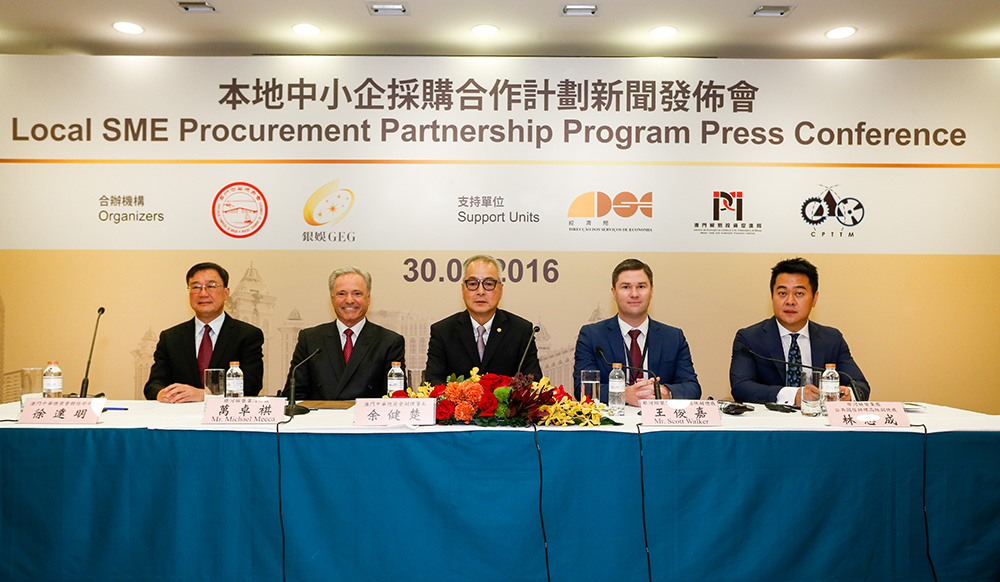 Galaxy Entertainment Group Foundation
Through its corporate social responsibility initiatives, GEG believes in tackling emerging social issues to help future generations build a brighter future. In April 2015, GEG established the Galaxy Entertainment Group Foundation to give back to Macau and the Greater China Region. The Foundation focuses on philanthropic activities to nurture young people and enable them to become responsible members of their communities.
The Foundation has launched four projects:
The GEG Young Entrepreneurs Scheme, in collaboration with the Macao Young Entrepreneur Incubation Centre and the University of Macau, provides pro-bono business consulting services to young entrepreneurs;
The GEG Venture Philanthropy Fund enables the Foundation to invest in startups incubated under the Macau New Technologies Incubation Centre;
The GEG Community Nursing Scheme aims to encourage nursing students through scholarships to join the community nursing profession and also supports community nurses working in non-governmental organizations in enhancing their skills through continuing education; and
The GEG Chinese Literacy Development Pilot Scheme aims to impress parents, teachers and social workers with the importance of Chinese language development, even for the very young. The school-based component provides teacher training and classroom intervention at two local kindergartens, and the community-based component focuses on impressing on parents the importance of reading and language skills development at a young age. The Scheme also hopes to sensitize parents to issues involving difficulties in learning to read and write.
Education and Culture
Supporting the Macau SAR Government's programs and policies on youth and talent development, GEG works with different educational, arts and cultural associations and institutes on helping young people build a strong educational foundation for their chosen future careers. Key initiatives taken by GEG in 2016 include:
Co-organizing with the Macau Management Association the 6th GEG Youth Achievement Program. Introduced in 2011, the programs have attracted over 1,800 participants; and
Title sponsoring the National Conditions Education (Macau) Association's 8th GEG Macau Cup – Youth National Education Competition. With the theme "One Belt, One Road", this year's competition attracted close to 8,000 students from 20 different secondary and tertiary schools.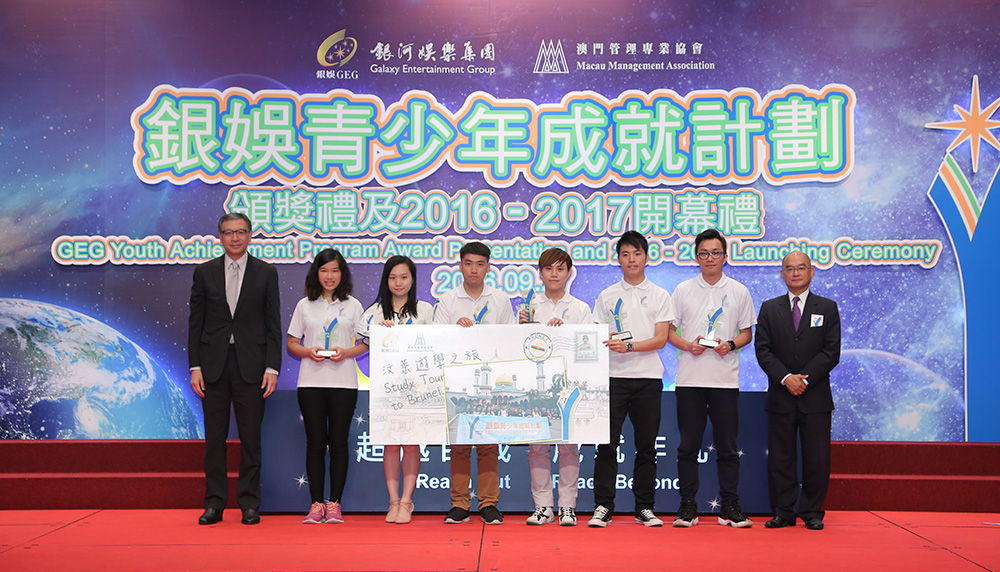 Contributing to the Community
As an accountable and proactive member of the Macau community, GEG is committed to providing full support to the Macau SAR Government's policies on nurturing youth and talent, developing sport and culture, protecting the environment, promoting social harmony, supporting national education and supporting Macau on its road to becoming a World Center of Tourism and Leisure.
Abiding by the philosophy of "what is taken from the community is to be used for the good of the community", in 2016 GEG organized a total of 21 volunteering activities that attracted 309 GEG volunteers who reached out to 28 charitable associations and provided almost 880 hours of service to the community. Since the launch of the GEG Volunteer Team in 2011, GEG has organized more than 120 volunteering activities that reached out to over 120 different charitable groups and contributed over 7,200 hours of service to the community.
Charitable Activities
One of GEG's major goals is to achieve community involvement by supporting Macau's different charitable groups. In 2016, the key beneficiaries included (in alphabetical order):
ANIMA
Caritas Macau
Charity Fund from the Readers of Macao Daily News
General Union of Neighborhood Associations of Macau
Macau Holy House of Mercy
Macau Special Olympics
Macau Tung Sin Tong Charitable Society
Orbis Macau
World Wide Fund for Nature Hong Kong
Sports Development
GEG works hand-in-hand with the Macau SAR Government to upscale Macau's sports and cultural development and achieve social harmony. Major initiatives in 2016 included:
Sponsoring the Macau Galaxy Entertainment International Marathon for the 13th consecutive year. As one of Macau's four major annual international sporting events, the event attracts amateur and professional runners from different countries and regions. Over 800 GEG team members took part in the activity, with GEG receiving the Marathon's Group Award for the 12th consecutive year;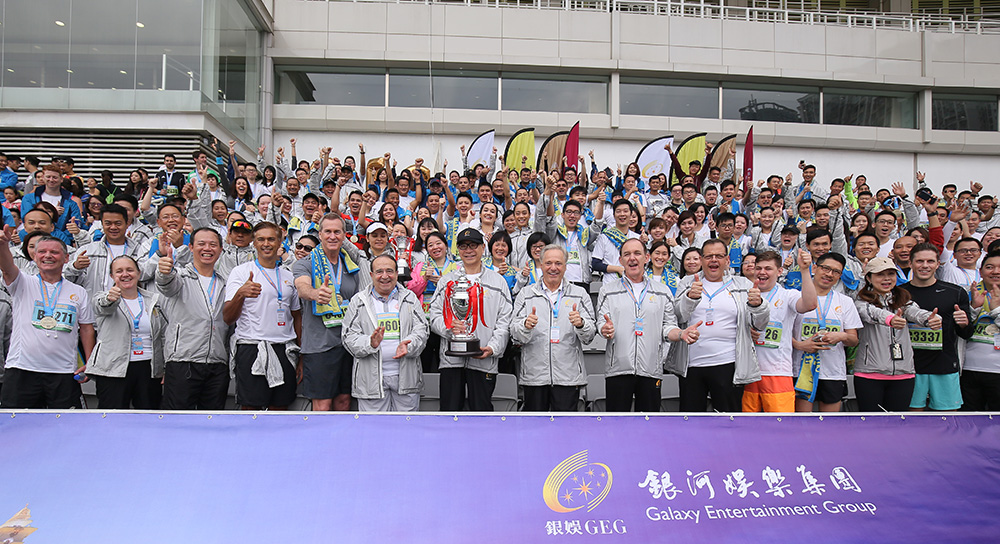 Sponsoring the 2016 Galaxy Entertainment Special Olympics Table Tennis Competition for the 6th consecutive year, which the Macau Special Olympics organized to enable persons with learning difficulties to strengthen their physical fitness, skills and friendships through sports; and
In 2016, GEG's Dragon Boat, Basketball, Soccer, Table Tennis, Bowling and Running Teams obtained a total of 36 awards in different sporting competitions organized by Gaming Employees Home and other charity and community associations.