City Clubs
City Club casinos are dedicated to delight high-rolling VIP guests and designed to exceed their greatest expectations. Collaborating with four city hotels, GEG operates four City Club casinos, which are located inside the Waldo Hotel, President Hotel and Rio Hotel properties on the Macau Peninsula, and near the Macau International Airport and Lotus Bridge in Cotai – GEG also operates a City Club casino inside the Grand Waldo Hotel.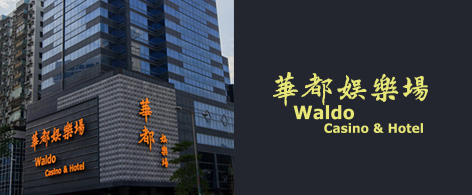 Waldo Casino
Opened in July 2004, the recently refurbished Waldo Casino is located a short distance from the Macau Maritime Ferry Terminal.
Hotel Facilities:
Refurbished in 2008, Waldo Hotel has become Macau's first boutique-style hotel. Offering guests four room styles to choose from – "Hip", "Glamour", "Comfort" and "Pure", plus access to a range of facilities that match the guests' preferences, the new Waldo Hotel caters to every guest's needs.
The hotel's restaurants offer diners a remarkable choice of Chinese, Western, casual and fine-dining options. Diners are sure to take home a delightful experience after visiting the hotel's Jaune Chinese Restaurant, where they can savor many carefully prepared signature dishes under the most harmonious setting where elegance blends perfectly into the restaurants' modern interior design. For those seeking a cozier venue, Verde Café is designed to offer a more comfortable and relaxing atmosphere for guests while they enjoy the café's delicious menu. If Verde Café is still not relaxing enough, then guests will have to visit the hotel's Perle Bar and Kuro Wine & Cigar Bar, the perfect venues for an enjoyable and relaxed night out.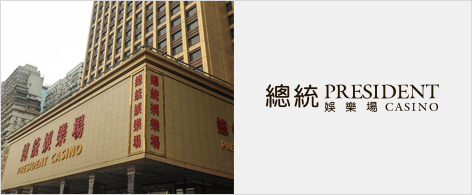 President Casino
Opened in April 2006, President Casino is conveniently located in the heart of Macau's gaming, entertainment and commercial center. Being a short distance away from many of Macau's vibrant casinos, the city's main shopping and commercial districts, it takes only a 5-minute taxi ride to travel from the President to the Macau Maritime Ferry Terminal and a 20minute taxi ride to get to the Macau International Airport.
Hotel Facilities:
Aspiring to offer guests exceptional quality service at reasonable prices, the 21-storey President Hotel offers in excess of 200 spacious, yet economical, guestrooms that will surely meet guests' expectations. For dining options, the hotel offers a range of Chinese and international delights that cater to all guests' appetites, and for late diners, the hotel's 24-hour room service gives guests tremendous flexibility in satisfying their every late-night craving.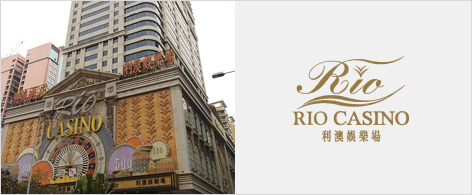 Rio Casino
Opened in early 2006, Rio Casino is conveniently located on the Macau Peninsula, just a 10-minute walk from the Macau Maritime Ferry Terminal and a 15-minute ride to the Macau International Airport. Rio Casino boasts many rich royal Italian features, where the style and décor will leave guests' with a most lavish and unparalleled gaming experience.
Hotel Facilities:
24-storeys high, Rio Hotel is equipped with more than 440 elegantly decorated rooms, including 64 suites and 1 superb presidential suite. The hotel offers an extensive range of leisure and entertainment facilities including a casino, nightclub, sauna and spa facilities, a gymnasium, a heated indoor swimming pool, conference rooms and multi-function banqueting facilities.
Restaurants and bars are located on the hotel's main lobby and on Level 3. Offering guests Chinese, Japanese and Western dining options to choose from, the hotel houses one of Hong Kong's renowned fine dining restaurants – the Fu Hou Ah Yung Abalone Restaurant, the very popular Iida Japanese Restaurant and the 24-hour Rio Coffee Shop, which serves a wide selection of international food and beverages.