Background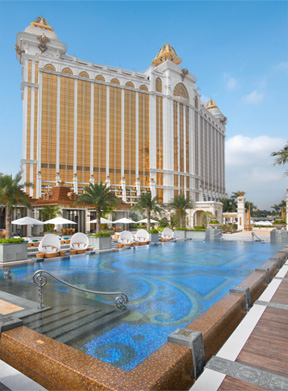 Galaxy Entertainment Group ("GEG"), one of Asia's leading developers and operators of integrated entertainment and resort facilities and a member of the Hang Seng Index, wholly owns Galaxy Casino S.A., a gaming concessionaire that received a gaming concession from the Macau SAR government in 2002. Authorized to carry out casino games of chance in Macau, GEG marked the entry to Macau's gaming industry in 2004 through the launch of the first of four distinct City Club casinos. Achieving instant success, GEG continued to grow and expand the businesses, and within a few short years, GEG took over Macau's lucrative VIP gaming market, emblazoning the name of GEG on the world's gaming map.

Recognized as the world's single biggest gaming market, Macau dominates as the world's largest generator of gaming revenue and the only location in the People's Republic of China where gaming is legal. Conducting business in this vibrant and culturally diverse city with a focus on the "Asian Heart" qualities, GEG offers exceptional services and world-class integrated entertainment and leisure facilities that complement the Macau SAR government's sustainable and diversified development objectives. Indebted to the support of the community, as well as its affiliates and GEG members, GEG continues to excel.

As a responsible corporate citizen, GEG shoulders its responsibilities. Striving for the creation of a better Macau, GEG contributes to establishing Macau as the "World Center of Tourism and Leisure". Supporting the city's different cultural and multi-faceted development initiatives, collaborating with Macau's different community and social services organizations and participating in local charities, GEG also attends to the needs of its employees and their families. Determined to become the "Employer of Choice", GEG attempts to establish a healthy work-life balance for all members (for details, please refer to the section on Corporate Social Responsibility).

Currently, GEG owns and operates StarWorld Hotel and Casino – a luxury 5-star property on the Macau peninsula, and operates four City Club casinos in Macau. Fulfilling its long-term commitment to transform Macau into a highly sought international destination for travel and recreation, GEG is developing one of Asia's most exciting and prestigious integrated leisure and entertainment resorts in Cotai – Galaxy Macau™. Opened on 15 May 2011, Galaxy Macau offers Macau the city's first truly Asian-centric and fully-integrated resort destinations and for GEG, prospects and opportunities for long-term growth.

In April 2012, GEG announced the development of Galaxy Macau Phase 2 that will nearly double the size of the existing resort to one million square meters. Upon its targeted completion by mid-2015, Galaxy Macau Phase 2 will bring to Macau some of the most exciting entertainment, leisure, retail and MICE facilities. In December 2012, GEG outlined its concept plans for Phases 3 & 4 of its Cotai landbank and expects to commence construction by the end of 2013/ early 2014 with a targeted phased opening between 2016 and 2018.