Background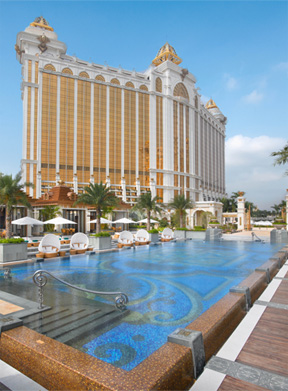 Galaxy Entertainment Group ("GEG" or the "Group") is one of the world's leading resorts, hospitality and gaming companies. It primarily develops and operates a large portfolio of integrated resort, retail, dining, hotel and gaming facilities in Macau. The Group is listed on the Hong Kong Stock Exchange and is a constituent of the Hang Seng Index.
GEG is one of the three original concessionaires in Macau with a successful track record of delivering innovative, spectacular and award winning properties, products and services, underpinned by a "World Class, Asian Heart" service philosophy, that has enabled it to consistently outperform the market in Macau.
GEG operates three flagship destinations in Macau: on Cotai, Galaxy Macau™, one of the world's largest integrated destination resorts, and the adjoining Broadway Macau™, a unique landmark entertainment and food street destination; and on the Peninsula, StarWorld Hotel, an award-winning premium property.
The Group has the largest undeveloped landbank of any concessionaire in Macau. When The Next Chapter of its Cotai development are completed, GEG's resort footprint on Cotai will double to more than 2 million square meters, making the resorts, entertainment and MICE precinct one of the largest and most diverse integrated destinations in the world. GEG is also planning to develop a world class, lifestyle leisure resort on a 2.7 square kilometer land parcel on Hengqin adjacent to Macau. This resort will complement GEG's offerings in Macau, and at the same time differentiate it from its peers while supporting Macau in its vision of becoming a World Centre of Tourism and Leisure.
In July 2015, GEG made a strategic investment in Société Anonyme des Bains de Mer et du Cercle des Etrangers à Monaco ("Monte-Carlo SBM"), a world renowned owner and operator of iconic luxury hotels and resorts in the Principality of Monaco. GEG continues to explore a range of international development opportunities with Monte-Carlo SBM including Japan.
As a responsible corporate citizen, GEG strives to create a better Macau and contribute to establishing Macau as a "World Center of Tourism and Leisure". Supporting the city's different cultural and development initiatives, GEG collaborates with Macau's different community and charitable organizations. GEG prioritizes the needs of its employees and their families in order to maintain a healthy work-life balance for all team members. For details, please refer to the section on Corporate Social Responsibility.
Firmly committed to the diversification of Macau's leisure and entertainment industry, GEG is committed to nurturing local talent, promoting local culture and contributing to Macau's long-term growth.